Increase landing page conversions with these 5 easy tweaks
Increase landing page conversions with these 5 easy tweaks
If you're implementing an inbound marketing strategy, you'll be offering free, educational content to customers and prospects. This helps you build genuine connections between your brand and buyer personas, and helps position you as a trustworthy, notable thought leader in your industry. Your landing pages are a huge part of this process.
As well as the actual content – ebooks, checklists, whitepapers – that you offer for free, the landing page that gates the offer needs to be just right. As the 'gatekeeper' between the visitor and the useful content, the landing page's function cannot be underestimated. Too long, and the visitor will leave the page without exchanging their contact details for your resource: too short, and the visitor might not feel clear about what you're offering, again giving up before leaving their email address.
So these are some of the best practices we've found work for our own inbound marketing campaigns, and for the ones we create for our customers. We want to lift the lid on what the ideal landing page looks like to help you increase conversions (without having to start from scratch).
1. Show that you care about your contacts' data
Let's get the most serious bit out of the way first: anyone working in the marketing world will be aware that data protection is a top priority for businesses, going into 2020. With GDPR a key consideration, a little effort to put privacy first will help your business build trust when marketing to your buyer persona.
But there's another benefit to being up-front about privacy – it puts people's mind at ease and makes it more likely they'll trust you with their data.
There is a very simple tactic for showing that you care about privacy and data protection – put a link to your privacy policy right next to the email field of your form. This will:
Show your commitment to data protection/privacy

Increase customers' trust in your brand

Improve the conversion rate of your landing pages.
Our Director of Growth, John Kelleher explains how to use this code:
"This tip will just take a few moments to implement but will be well worth it. Simply find the URL of your privacy page and update the email label on your form to include a link to that page.
That's it! A quick and simple way to show your commitment to protecting your visitors' privacy."
2. Create a clear headline
Your landing page shouldn't be mysterious: to increase conversions, your user needs to know exactly what your offer is. Assume that no-one has time to guess at your vague, playful gists and they need instant clarity to proceed. Remember: you're trying to get them to exchange their personal information for your helpful download. That is the primary focus on a landing page – not to entertain.
In our example below, the title of the resource is clear: Blogging for Business, and the format is also included: a guide. Underneath, the subheading lets the user know that they can increase leads for their business by using their blog in a different way.

A heading should be:
Clear, concise and honest: if it's a checklist to help you make your home more secure, then use a heading like: Protect your home in 6 easy steps with our free security checklist.
Obvious about the problem it solves: being direct doesn't mean being unimaginative. Tell the visitor which particular pain point that they experience in their day-to-day life will be solved: Feel safer in your own home, even when you're alone.
Worded enticingly: you could also try a 'How to…' format and use attractive words such as free, easy, simple, secret, results, quick and guaranteed. These are persuasive signifiers for visitors who may only spend a few seconds on your page before making a decision.
If your visitor only reads one thing on your landing page, it'll be the headline, so make it count.
3. Make your form irresistible
There are certain things every landing page should do. But the main feature of a landing page is the form. This is the pièce de résistance of the page: if a visitor doesn't see, like or fill in your form, it has failed in its primary function.
Luckily for all of us, the lead capture capabilities of a landing page can usually be quickly and easily improved by tweaking the form alone. One of the most off-putting features of a form can be its length: the number of fields must reflect the value of the proposition. If you're only offering a one-page checklist with five points on it, making a visitor fill in an eight-field form will only put people off. As Johnathan Dane at WordStream puts it:
'Many studies have been conducted about landing page forms, and it's a general consensus that the more information you ask for, the lower your conversion rate will be… they'll see it and may decide whether or not they want to start filling it out based on the number of fields. A high number of required fields will either scare them away, or they'll abandon it halfway through.'
If their name, company and email address are enough to get started, then just ask for these details. If you want their phone number, job title and location, these are things that could come with a bigger offer – such as a twenty-page ebook – or with a follow-up offer.
4. Make your form's button stand out
The form's submit button is the sign-seal-deliver feature of a landing page. It shouldn't be a subtle feature on the page, it should draw attention to itself and make it clear what happens when it gets clicked.
Make use of colour contrast to help it stand out from the form's background:

What about the language you use? Don't stick with the default 'submit' or 'get free widget'. Choose the language of your button to make use of imperatives, or directions at the start of the phrase. Words such as:
Send

Download

Get

Unlock

Discover

Create
The second part of the button's label should clarify what happens after it's clicked. As far as possible, make the value proposition as evident as possible: explain what they will get when they submit the form. Name the type of resource they will get access to; an ebook, an infographic, an interactive tool. Remove any guesswork on the visitor's behalf.
5. Remove unnecessary distractions
Never has the 'less is more' mantra been more relevant. Decluttering your landing page is a brilliant way to draw the attention of the visitor to the all-important part: the form. Our Senior Content Strategist, Anna Kaine, has been building landing pages for a long time, and explains:
"Sometimes it's tempting to throw a photo, video, long bulletpoint list of information, testimonials and logos on a landing page and – while I see the thinking behind each of these – all they do is distract instead of persuade. The more you throw on a landing page, the more overwhelming it becomes in the eyes of a visitor and they're more likely to bounce off.
Keep it clean, remove the navigation bar from the top, and write some key, punchy descriptors of what the visitor will find in your resource – other than that, let the form do the talking."
Here is an example of an ESM Inbound landing page – in particular, notice the blank space and short sentences used: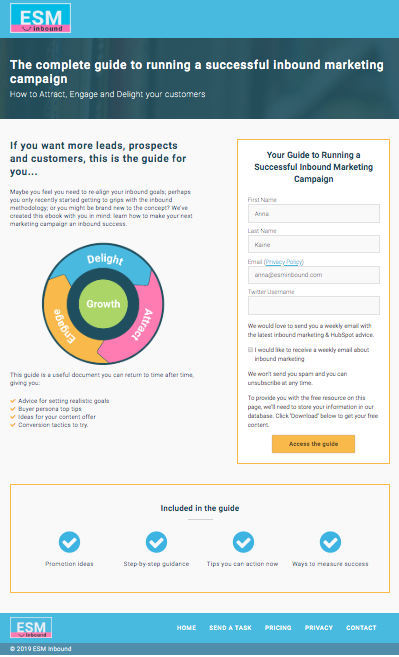 Keep in mind how vital landing pages are to converting visitors into leads; too many businesses overlook landing pages as an afterthought to their content creation and sales processes. But without effective ways to capture leads, visitors won't ever actually see your fabulous content. So put the work into that important little page now, and start reaping the rewards of increased lead generation.
A final tip: Only change one thing at a time. Monitor the form submissions on that page for a period of time and observe any improvements, then if you're still not happy with the rate of conversion, try tweaking another thing from our list above. This way, you will be able to track exactly which adaptations are effective.
Work with the UK's expert team for marketing audits, reports & campaigns
ESM Inbound is a UK-based marketing consultancy offering audits, reports & campaigns.
Work with the experts to get your marketing & sales back on track.
ESM Inbound's content includes affiliate links. This means that we may receive a commission if you make a purchase through one of the links on our website. This will be at no cost to you and helps to fund the content creation work on our website.
Related posts
This knowledge base article will explain how add ESM Inbound to either your company Facebook page or company LinkedIn page.
Read More