What happens during onboarding?
Our HubSpot onboarding service is comprehensive and tailored to your company's needs. We'll start with a video call where we'll discuss your needs and establish the systems that you need to integrate with your new CRM. With an understanding of your business and our experience of the HubSpot platform, we'll tackle the immediate technical onboarding needs, including:
configuring HubSpot tracking code
filtering your internal traffic
setting notification preferences
connecting your website
configuring your email and content settings
We'll then work with you to ensure that your company's data is uploaded and optimised to make the most of your investment. Our team will then coach you through a three-week programme to launch your first inbound marketing campaign so that you can start generating leads as quickly as possible.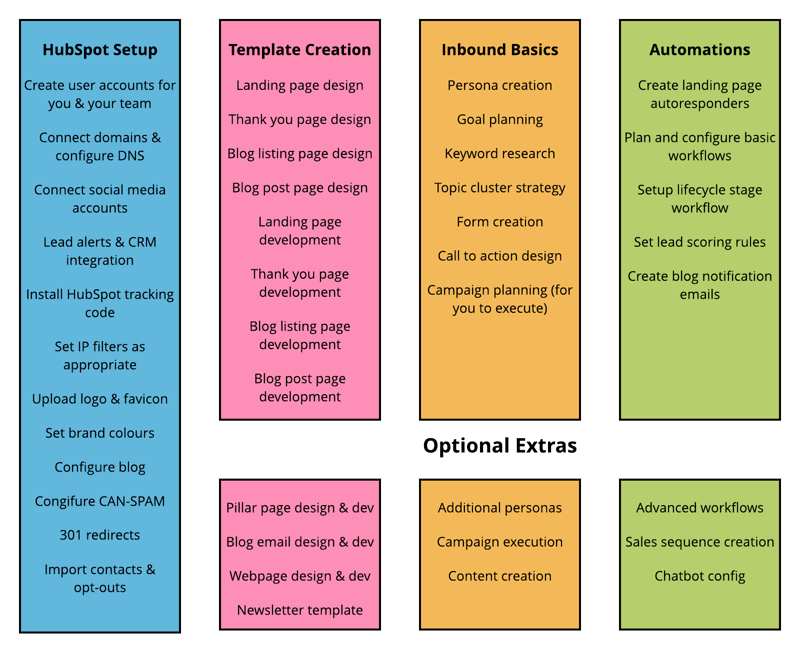 Choose your onboarding service
Month One
In your first month, we'll work in a series of one-week sprints, each designed to get you up-and-running with a specific aspect of HubSpot and inbound marketing.

Months Two & Three
Weekly calls with a senior strategist. During the call we will use the following process:

Optional: upgrade to on-site onboarding
Our standard onboarding packages are an efficient and effective remote onboarding service. Managed with a series of weekly video calls and measuring progress using HubSpot Projects, it's a powerful way to get up-and-running with your new HubSpot portal. Some companies, however, prefer to have a member of our team visit your offices and lead onboarding sessions face-to-face.
With On-Site Onboarding from ESM Inbound, you can have a member of our senior team come to your office for two days. In that time, we'll explore:
buyer personas
buyer's journey
contact in HubSpot and list segmentation
planning an inbound campaign
email best practice
creating a conversion path
blogging, topic clusters and pillar pages
social media
lead nurturing
reporting
This two-day service is an add-on to our standard onboarding process and is charged at £1,800. This means that On-Site HubSpot Professional Onboarding costs £3,200 and HubSpot Enterprise Onboarding costs £5,100. Purchasing the same option directly from HubSpot costs at least £12,600 - making ESM Inbound's option less than half price!