Custom reporting for companies that sell to schools
Insights by ESM Inbound is a service that takes the guesswork out of ROI calculations, and takes the pain out of reporting.
Are your business reports updated in real-time? How often are your marketing and sales KPIs analysed? Are your business decisions data-driven and informed by an expert education marketing strategist with Qualified Teacher Status?
Our Insights service ensures that your reports data is updated hourly, that your KPIs are analysed weekly and your leadership team has a monthly opportunity to consult with a dedicated member of the ESM Inbound team (who taught in schools for years). ESM will analyse the information and provide you with insights that uncover what is and isn't working in your marketing and sales pipeline.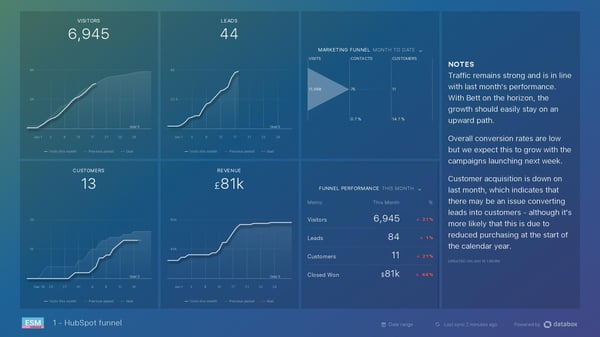 Included in Insights by ESM Inbound
When you sign up for our consulting, analytics and reporting service, you'll have access to:
A dedicated education marketing and sales strategist

A Databox account (worth at least £35 per month)

A suite of customised data dashboards that monitor your business KPIs in real-time
Each month, you will be able to take advantage of:
Data dashboards that provide you with a real-time overview of your business growth
Weekly text-based updates on your marketing and sales performance
A monthly video update from your dedicated education marketing strategist
A monthly consultation call with your strategist
What data sources can we report on?
Your data dashboards will be created from your CRM, website analytics, email marketing platform, app stores, advertising channels, social media platforms, SEO tools, accounting software and a range of other business tools. Our data dashboards can combine metrics from all these tools and even generate calculations that show the conversion rate between two different tools in your technology stack.
Common tools integrated into dashboards include:
HubSpot
Salesforce
MailChimp
Google Analytics
Campaign Monitor
Google AdWords
Facebook Ads
iTunes Connect
Google Play
You might choose to monitor KPIs such as lead generation, customer acquisition, revenue, lead conversion rate, activity of sales people, and app installs.
Work with a Databox Premier Partner
ESM Inbound is a certified Databox Premier Partner, which reflects our ability to create high-quality, customised reports with advanced calculations. In Databox's words, a Premier Partner has "mastered the art of internal and external communication" with clients.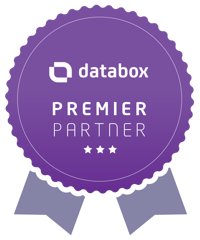 Take the first steps to understanding and improving your ROI for just £200(+VAT) a month by filling in the form below.