How to set up the perfect ad audience
Setting up the perfect audience is probably the most important part of creating a successful ad campaign.
Knowing your personas and only targeting those who are interested in what you have to offer is critical - after all, you don't want to waste money on people that aren't going to convert.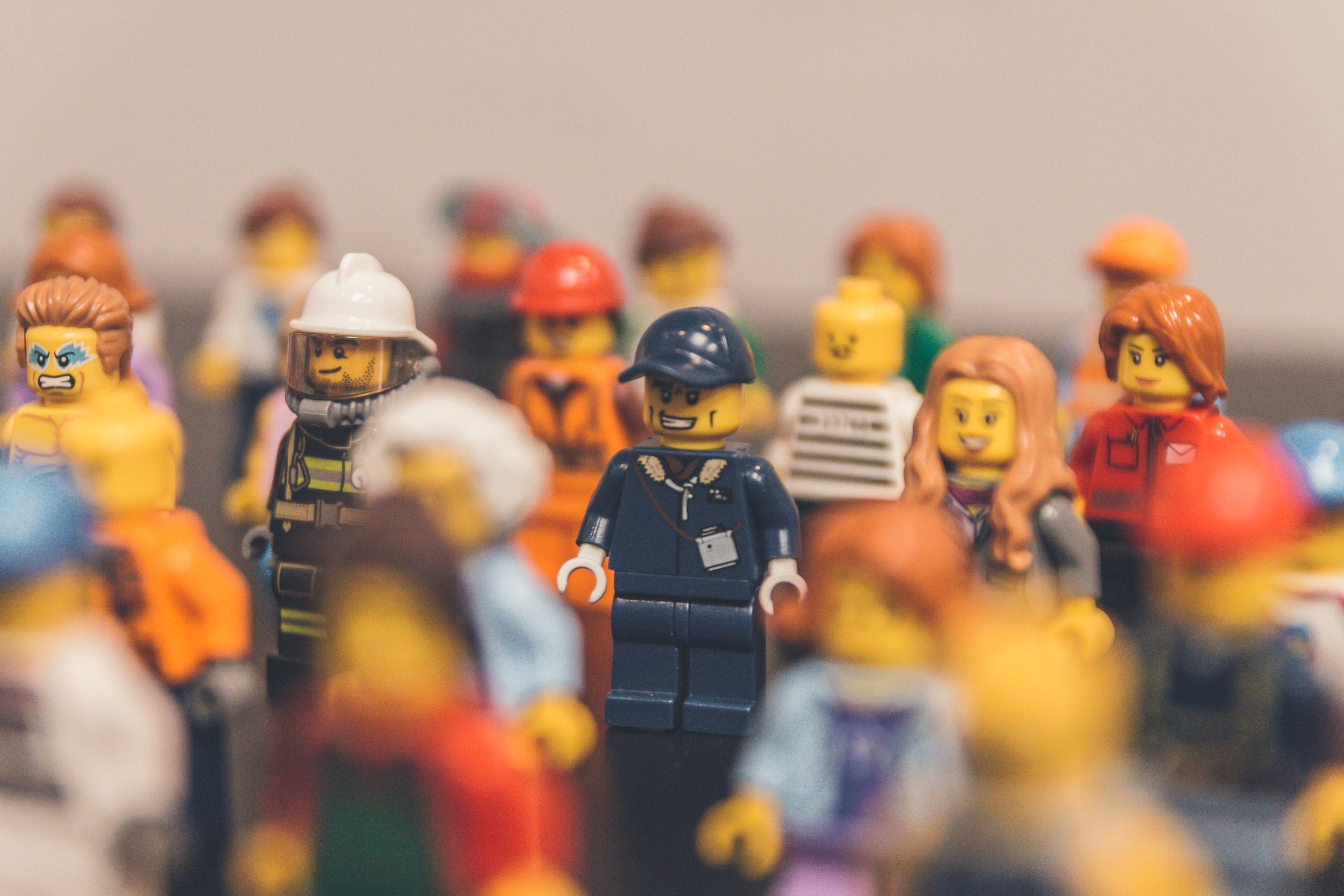 Facebook saved audiences
There are three audience types to choose from on Facebook, but as the 'core audience type', we're going to delve into building the perfect saved audience.
Facebook saved audiences, also known as 'core audiences', can be created either in the campaign setup or in the 'audiences' portal of Facebook. Saved audiences are great as they allow you to create a defined target audience by honing in on specific demographics of users, such as:
Location-based targeting
First up, you'll want to define the locations of your target audience; you have the option to include/exclude as many locations as you need to narrow down your audience. To be as specific as possible, you can arrange by:
Country
State/region
Counties
Cities
Postal code
Specific address radius


You can also narrow down with another layer of location targeting, using the additional options of people living in this location, people currently in this location, or people traveling to this location.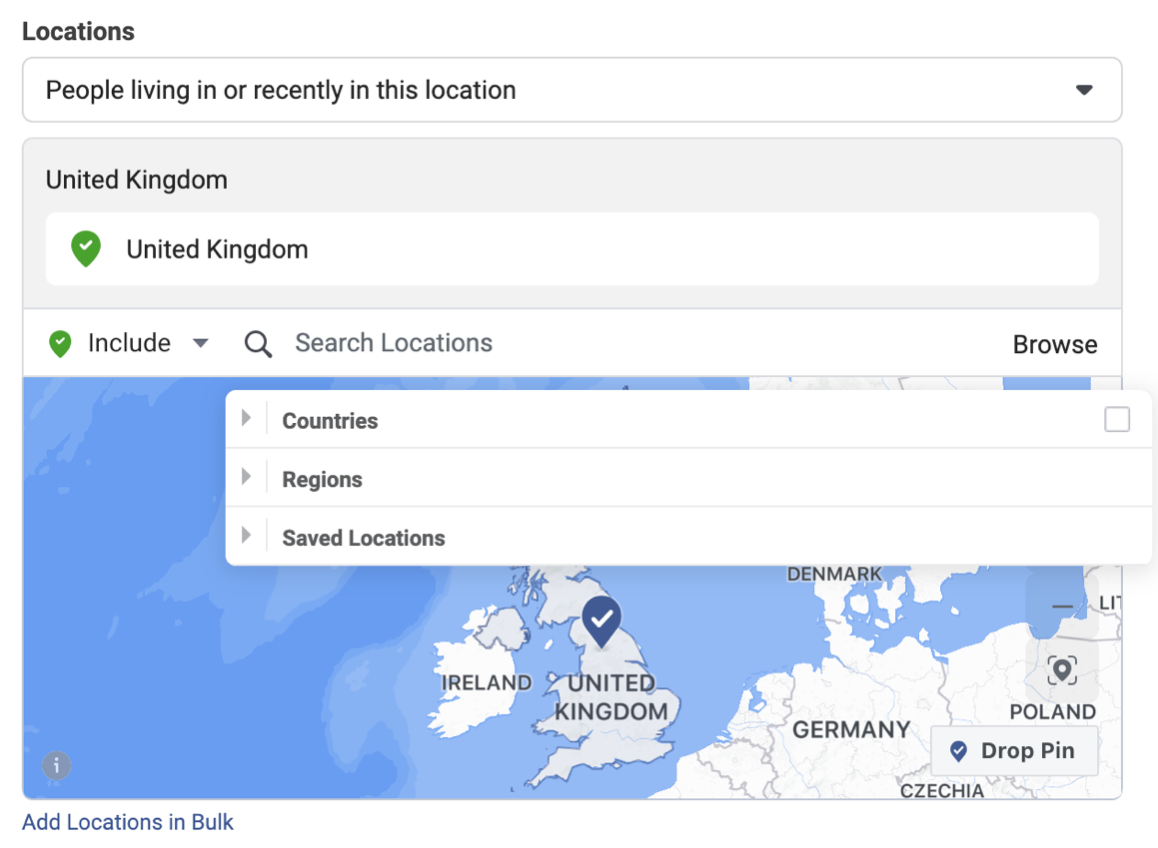 Demographics-based targeting
Demographic targeting on Facebook allows you to be very precise. There are plenty of options to choose from to refine your audience:
Age - Perfect if you're targeting a specific age range; you can easily reach them by telling Facebook who your ideal personas are.
Gender - If your product or service (or ranges within them) is targeted at a specific gender then this helps filter out bad-fit prospects.
Languages - A practical detail for if you're advertising in a particular language.


You can also get even more detailed with options for education, financial situation, life events and work. If you have really defined buyer personas, these elements are essential.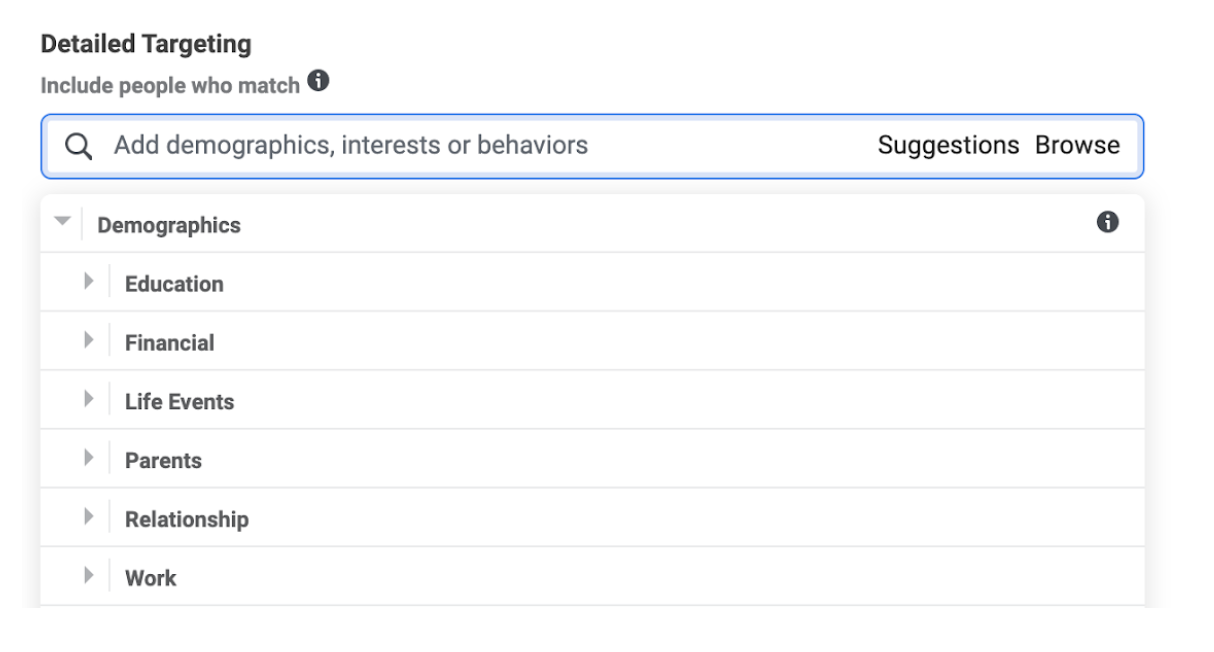 Interest-based targeting
Interests are one of Facebook's best targeting options as they allow you to target people specifically interested in a subject related to what you're offering. It's a great way to advertise your products or services to potential customers who have specific interests and hobbies.
You can browse interests in the menu, or type in your own suggestions to find the most suitable options.
You can reach specific audiences by looking at their interests, activities, the pages they have liked and closely related topics. Adding more than one interest will target people with at least one of them so you'll make your reach broader.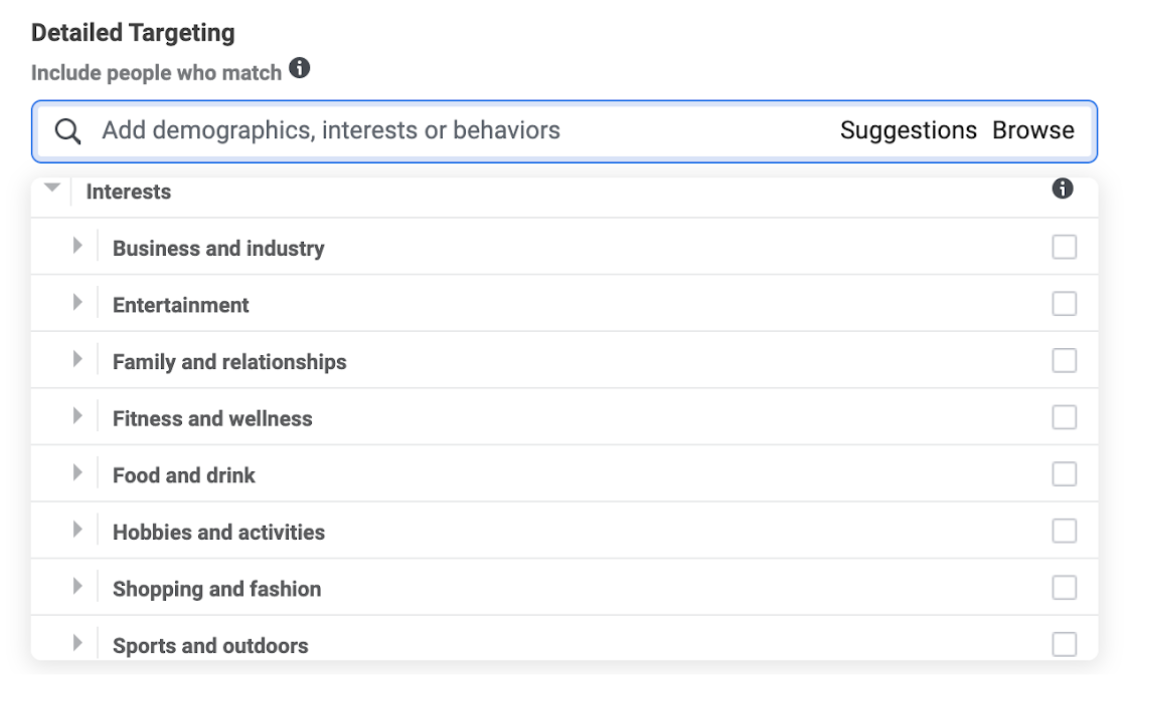 Behaviour-based targeting
This type of targeting allows you to target people based on purchase behaviours or intents, device usage and more. This data is gathered by Facebook analysing many factors and also using external data sets.
This type isn't always useful, but the wide range of available behaviours can create great opportunities for brands to show relevant ads and increase conversions.
Once you've set up and saved your core ads audience, it can then also be used as a target group for creating 'lookalike audiences'. Facebook provides many possibilities for mixing types of Facebook Ads to target audiences, so a well-defined core audience can be extremely helpful.