Your website isn't just a calling card for your brand. It is a core part of your marketing strategy and should play a key part in converting website visitors into leads.
ESM Inbound develops high-converting websites that appeal to schools and teachers. Drawing on our experience as school teachers and our expertise as marketers and former teachers, we can build websites that appeal to your audience and encourage them to develop a relationship with your brand.
Growth-Driven Design
ESM Inbound makes use of a proven method of website design that focuses on delivering business growth.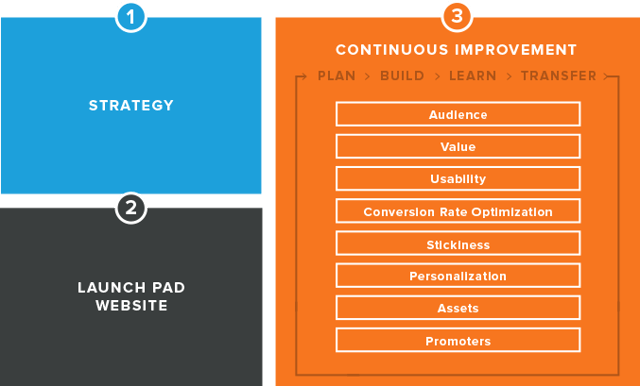 The three-step process starts with a strategy meeting. We'll identify your customer personas and business needs. From there, we will develop a launch pad website in 30-45 days.
With the fully-functional launch pad website delivering improved business results, we will then focus on continuous improvement. Starting with building your audience, we will work our way through the website hierarchy on a monthly basis. This ensures that your website is always fresh, engaging and (most importantly) delivers excellent business results.
What is the impact of Growth-Driven Design?
Website design typically takes three months and the site remains static for at least two years. That's two years where your site isn't contributing to business growth.
With Growth-Driven Design, you'll launch your website in 30-45 days and improve it on a monthly basis. Each improvement cycle is based on solid data, ensuring that your website continually drives growth for your organisation.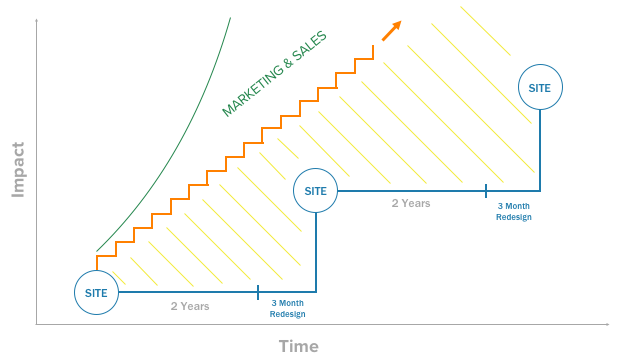 Compared with traditional website designs, your site's ability to generate leads and acquire customers will increase far more quickly.