Growth-Driven Design is an alternative to traditional website design. Instead of building a full website which takes six months or more, on average, to build with very little direction to improve, a GDD website makes smaller, incremental changes to the site over a period of time, meaning results can usually be seen within 60-90 days.
This shift in how a business views their website can take some getting used to; instead of a single deliverable that will largely stay the same until the next redesign, a GDD website makes small changes to the website's interface and uses continuous improvement strategies.
There are three pillars to growth-driven design that set it apart from more traditional methods: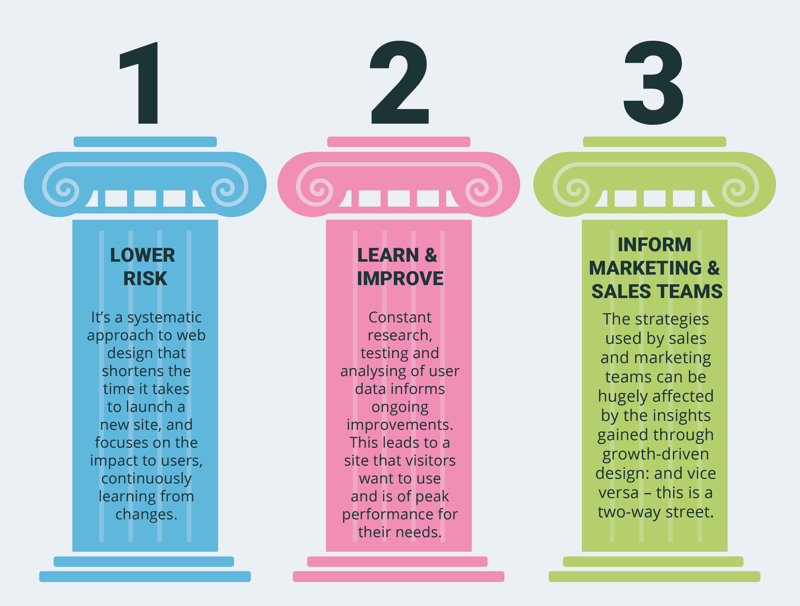 Instead of a nasty (expensive) surprise that doesn't deliver what you wanted – and is so inflexible you won't be able to make changes to it until your next redesign in two years – the GDD model focuses on creating a sturdy foundation in three steps on which to continuously improve your website features. So if the idea of spending countless months (and escalating budgets) on website redesign makes you feel like running for the hills, then growth-driven design might just be for you.
Why is traditional web design broken?
Your website is the most important member of your sales team: it works 24/7 and is the "face" users see before they even reach out and speak to a human at your business. In their guide to Growth-Driven Design, HubSpot states:
"...a prospect has already moved through 70% of the sales process before even reaching out to your sales team. Where are they finding the information before talking to someone? – Your website."
A lot of businesses take this to mean that: high importance = huge stressful overhaul each time you want to change your website. This isn't the way it has to be. But because it's what people have come to expect, it feels like to do a "proper" job, there has to be a lengthy, painful ordeal first.
For some businesses, a complete redesign could be the way to go, especially if you have a clear vision for what you want to achieve and the budget to get it done fast. But for many, it's a daunting prospect. The most common problems that can arise from traditional website redesigns are:
Large upfront cost
Spiralling budgets once started
Missed deadlines
Inability to be flexible/make changes as you go
Longer waits for results to be seen.
Why do traditional website redesign projects fail?
Businesses don't want to wait months before they can see any positive results.
If the changes made to the website aren't profitable, businesses want to be able to make tweaks straight away.
Changing everything at a time means you can't keep track of the changes that are actually making an impact – remember your science experiments at school? Only change one variable at a time before analysing the results.
Most businesses can't afford to pay large sums upfront – the average traditional website redesign costs between £11,000-£60,000. Paying a chunk of this before work is completed is understandably daunting.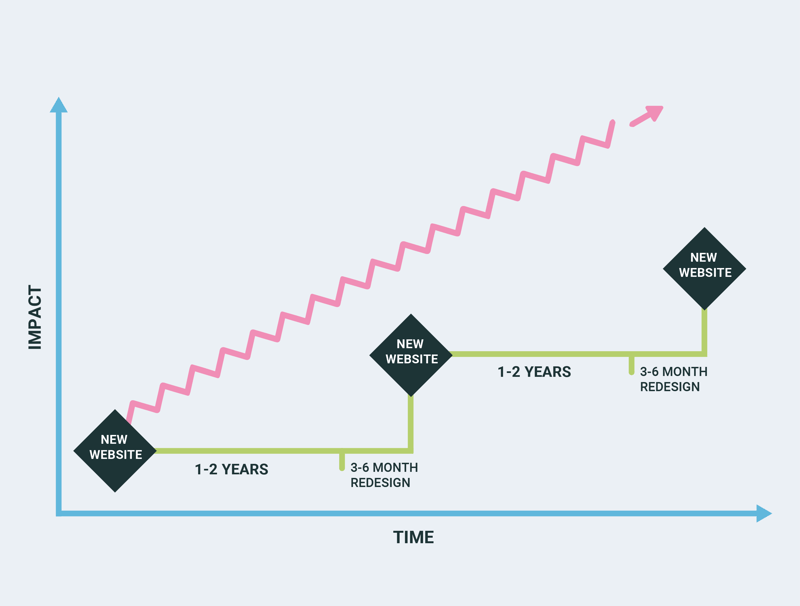 What are the benefits of Growth-Driven Design?
In Growth-Driven Design, the focus is on data- and audience-driven analysis. You are redesigning your website with the intention of making ongoing changes based on visitors' needs and conversions. Here are some of the benefits:
GDD lets you minimise risk – both financially and emotionally.
Beginning with a launchpad website, rather than a traditional "set and forget" model, means you can constantly tweak and adapt your site as the needs of your users shape your findings.
The initial strategy stage and launchpad site development takes just 30-45 days, so it's easier to stay on budget, on deadline and crucially, start seeing positive effects.
GDD follows a cyclical pattern, typically with regular monthly checks. If you've set yourself a target of spreading the redesign over a year, the following 11 months suddenly feel far more manageable and less daunting.
By using weekly/bi-weekly sprints where you're constantly testing and reviewing your site's optimisation, it feels like a productive learning journey, rather an unrealistic, out-of-control quest for perfection before anything gets launched.
The launch phase does what it says on the tin: it launches your website. And fast. There's no room in the launch phase for endless tweaking and striving for perfection, only to discover your pristine site isn't generating any leads. This crucial phase is typically completed in between 60-90 days and is closely aligned with the changes your team wants to make to your website, what the data shows your users want you to change, and best-practice research.
During this phase, your web-design team will be responsible for developing a website strategy for your launchpad, based on all these factors. The strategy will be built through the creation of a wishlist of features for the site which will be created by representatives from your whole team – there's more information on the wishlist in Chapter 3.
Strategy development
Before you can run your wishlist session and start the exciting task of re-imagining your new website, you need to audit your current site to help you develop a GDD strategy. In order to do this, you need to dig around in all the information you already have about your business, its goals, its existing site, user data and what you think you know about your customers. Below, we've outlined how to structure this process:
Step 1: SMART goals
What are your business goals? Could everyone in your organisation tell you what they are? Sometimes it's too easy to create goals, file them away in a pretty document, and forget about them. In reality, your goals need to underpin every decision you make for your business: without goals, there's no way to tell if you're succeeding.
The goals of your Growth-Driven Design strategy will be unique to your business. We recommend following the SMART goals method, but you can also ask yourself the following questions when digging deep into what it is you really want from this redesign:

ClearPoint Strategy recommends thinking carefully about your company's values during this part of the process:
"Be sure every goal ties back to your mission and your vision. It ensures each goal is oriented on where your organisation is headed in the long-term, not just something you're thinking about in the moment."
This is an excellent tip to help prevent the business from getting greedy or targeting goals that haven't ever been in the makeup of your company: rooting everything in your mission statement will help you stay grounded through this time of evolution.
Step 2: Buyer persona review or creation
Hopefully, you've been putting your buyer personas – semi-fictional representations of your customers – at the core of your marketing, sales and service activity for a long time – but if you haven't, don't worry. We've written plenty of advice on how to build them and even offer a quick 5-Minute Persona Builder for free to help you get started.
Your website needs to feed your business objectives, but it needs to lead with the priorities of your customers, too. This is an essential step. Growth-driven design only works if you're completely focused on your customers and their needs – indeed, this is the inbound way, full stop. You can't expect to run effective campaigns, or launch a high-performing website if you aren't willing to learn who your customers are, what their pain points are, and what they want.
Top tip: You need to dedicate time to developing your buyer personas in order for Growth-Driven Design to work for you.
Step 3: Audit
Now that you're equipped with your up-to-date buyer personas, it's time to pay some closer attention to your data. You'll have a wealth of this already available to you from your existing site – so use it:
Quantitative Research – Website & analytics audit
It's time to start digging. Quantitative research is a structured way of collecting and analysing data that you've obtained from different sources. We suggest performing a quantitative audit by reviewing:
How the existing website is performing
What is, and is not, performing well
Where users are dropping off/bouncing
Where there is opportunity for improvement in your future site.
It's through this research that you will identify the specific areas where you can improve your site and support these elements with data. This is particularly important for the later wishlist stage as all decisions made at this meeting will need to be backed up by genuine data from your existing site.
Qualitative Research – Talking to real people
Once you've reviewed what the data is telling you to change, it's time to check how this compares with what your customers tell you face to face. Technically, the evidence from your website audit should align with what buyers tell you when you pick up the phone to ask them, but sometimes this isn't the case. This is your opportunity to:
Tease out more details that an analytics dashboard can't tell you.
Cross reference what customers are telling you they want to be improved, with how users are behaving on your website.
Truly connect with the real people behind the screen: your customers. Find out who they are, their goals, pain points and how you can help.
Update your buyer personas with specific, targeted information shared by your customers.
Some things can only be learnt, human to human. These phone calls or meetings in person are golden opportunities to learn the whats, whys, hows, wheres and whens behind user decisions.
Step 4: Fundamental assumptions
By now, you should be feeling pretty secure in your user knowledge, based on the research available to you. You need to use this information to help develop your fundamental assumptions. These are a closer look at your user and working out why they behave the way they do, what they need and how your products can help.
Here are a few examples of questions you can ask yourself to see what your fundamental assumptions are for your customers:

You will use these assumptions to explain user behaviour, which will help with the global and page strategy step that comes next.
Step 5: Global and page strategy
The final step in strategy development will see you put together a two-part strategy:
Part one focuses on a site-wide "global" strategy for your entire site.
Part two focuses on specific page-by-page strategy of your site.
Top tip: Make sure you use all of the steps above for each of these strategies, creating two comprehensive overviews of the macro and micro-scale elements of your site.
Before you can create your launchpad website, you need to create a wishlist. This consists of all the requirements that your team can possibly think of to improve the existing website, all collected in one place. HubSpot simply defines it as:

"A continually evolving list of the creative, game-changing ideas to solve user challenges, bring them value and ultimately hit business goals."

You need a good cross-section of your business represented at your first wishlist brainstorming session. From sales and service operators, to the marketing and content team, web designers and developers – make sure you have an even spread of the business covered.
You want the ideas brought to this session to stand for every aspect of the business – there are some things only front-line sales people will know, just as there are things only your web team will be able to share. The key is to come into your brainstorming session with a "clean slate" and to not get hung up on the existing website. Think about what items should be on the list to achieve your goals in an ideal world if money, time and development skill were not an issue.
Top tip: Give your team plenty of notice about this meeting, and a secure idea of what you're expecting – this is to enable them to prep, find supporting evidence and create a comprehensive list over time, rather than rushing.
The kinds of ideas your team needs to produce include:
Key impactful website sections and pages
Marketing assets, tools and resources
Specific features, modules and functionality
Design elements
Changes in experience based on devices, country and beyond.
It's recommended to run this ideas session for between 3-6 hours to ensure everyone has their say, has the opportunity to question one another, and so a comprehensive list can be compiled. You might have in excess of 200 ideas for the website across your team, from additional products pages, to new functionalities, such as chatbots. But, in order for your launchpad to work effectively, not all of these fantastic new ideas can be implemented all in one go: you need to prioritise.
The next step is to initiate the 80/20 method. Decide which 20% of these ideas are going to create 80% of the impact: how can you be time and effort savvy, to implement changes that can get up and running quickly?
It's up to your team to work out which elements will be in this final, slimmed down 20% list using fundamental assumptions, hypothesis statements and data-collection tools.

Top tip: The main objective of the wishlist session is to make sure everybody feels listened to, is given their chance to share, and – even if their ideas don't make it into the initial launchpad – they know their suggestions will be filtered into the new website somewhere down the line. Use your team members who are "on the ground" speaking to your customers every day – their experience is golden and will enable you to head in the right direction when constructing your new launchpad site.
The launchpad site – it sounds dramatic, as though you're about to be sent into orbit... and in a way, you are. Yes it's a big change to what you may be used to from traditional website-design methods, and it can seem daunting – much like a space mission! But really all we are doing is simplifying your website redesign and enabling you to get enough power behind you to make that leap into the stratosphere fast.
Traditional redesign can be off putting – many of us associate a new website with a huge upfront payment, spiralling costs and missed deadlines. It can be one of the most anxiety-inducing activities in a business' timetable. As
HubSpot
puts it:
"If you have ever been involved in a redesign, it's likely that you did not enjoy the process. Between the large up-front costs, 3+ month build times (often launching late) and lacklustre results post-launch, it's no wonder we only redesign every 1.5-2 years."
The idea behind a launch pad website is to help you avoid much of this instability and uneasiness. So if you want to create a higher-performing website, providing more value to both your users and your business, then look no further.
What is a launchpad site?
It's a method that builds a website in small incremental, yet constant, steps.
It encourages the designers and marketers involved to empathise with the user, observing their behaviours and patterns, then tweaking the design accordingly.
It focuses on providing users with a cogent, easy and persuasive user journey.
The goal isn't to produce a complete website tied up in a bow after six months, but to start showing progress much sooner with a constantly evolving, quick-start site – or a launch pad.
As the name suggests, the launchpad is merely the first version of your website – the groundwork from which all the fantastic stuff to come will 'launch'. GrowthDrivenDesign.com defines it as:

"The goal of the Launch Pad website is to quickly build a website that looks and performs better than what you have today, but is not your final product. Your Launch Pad is the foundation from which you collect real-user data and optimize."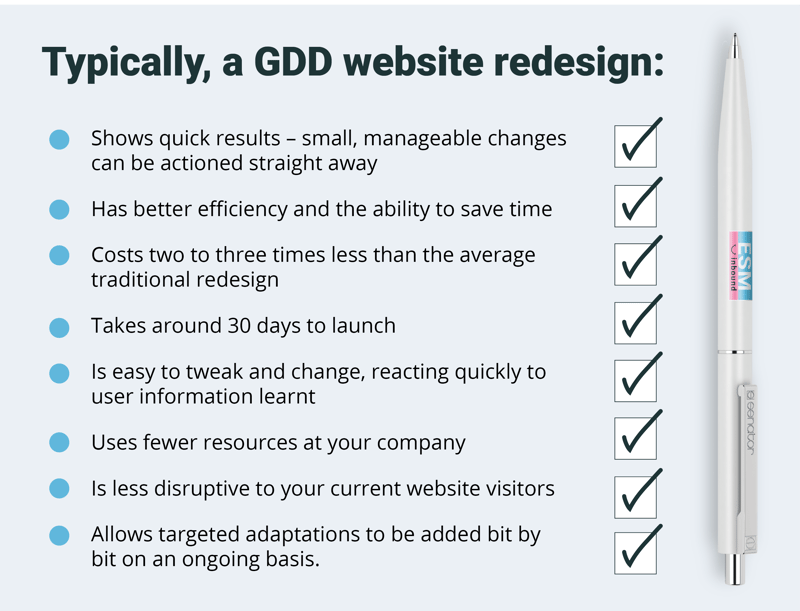 How does it make your business stand out from the rest?
A customer-focused business makes a better business. In the modern landscape, customer service is everything, and this doesn't just include the way your team communicates and interacts with customers, but the experience users have when they visit your website.

A website is often the first 'sales person' a visitor will meet from your team – and it can be a make or break experience. If you've got an enjoyable, easy-to-use website that looks beautiful and predicts the kind of service the visitor might want, it's far more likely they'll consider your product over a competitor's outdated, confusing site.

In a 2017 survey, 350 agencies from around the world reported the impact their clients have seen using Growth-Driven Design vs. traditional web design: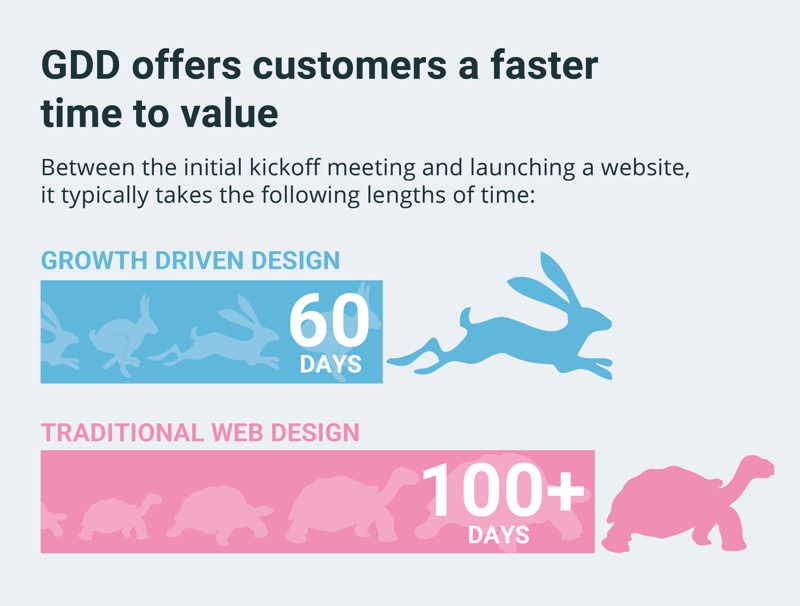 For most businesses, the speed with which a new website can be up and running is a huge draw for approaching a GDD redesign. This means your employees and users alike will benefit from minimum disruption. Once the most urgent elements are replaced, you can start monitoring their efficacy straight away, looking at how users are accessing the new content and start tweaking pages accordingly (while the more heavy-duty work still continues in the background).
Remember: Your launch pad website won't be perfect when it's launched – no website ever is – but the basis of this process is to make continuous improvements over time, rather than setting a complete site live and leaving it as it is – problems and all – until its next (possibly annual) review.