Chapter 1: What is GDD?
Growth-Driven Design is an alternative to traditional website design. Instead of building a full website which takes six months or more, on average, to build with very little direction to improve, a GDD website makes smaller, incremental changes to the site over a period of time, meaning results can usually be seen within 60-90 days.
This shift in how a business views their website can take some getting used to; instead of a single deliverable that will largely stay the same until the next redesign, a GDD website makes small changes to the website's interface and uses continuous improvement strategies.
There are three pillars to growth-driven design that set it apart from more traditional methods: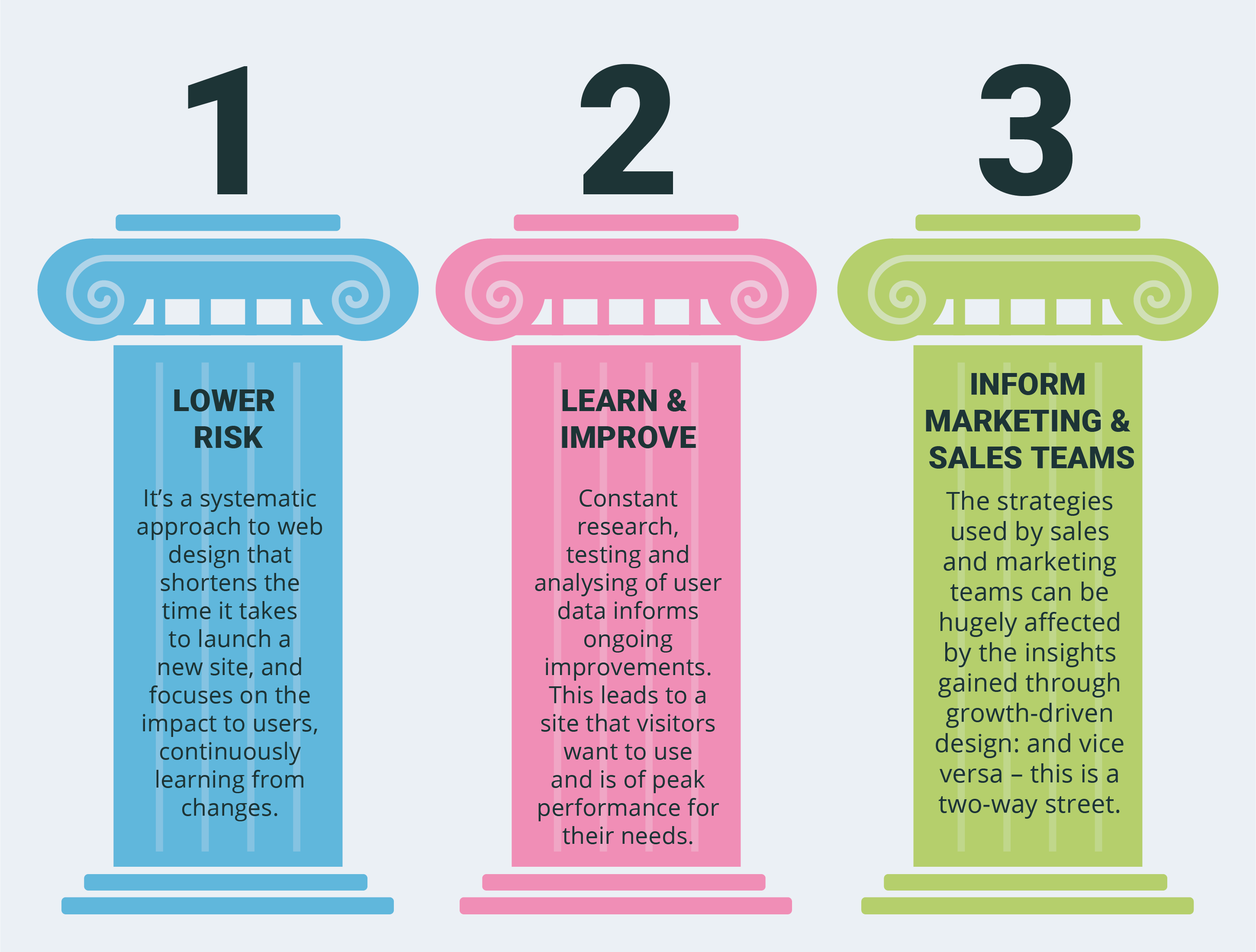 Instead of a nasty (expensive) surprise that doesn't deliver what you wanted – and is so inflexible you won't be able to make changes to it until your next redesign in two years – the GDD model focuses on creating a sturdy foundation in three steps on which to continuously improve your website features. So if the idea of spending countless months (and escalating budgets) on website redesign makes you feel like running for the hills, then growth-driven design might just be for you.
Why is traditional web design broken?
Your website is the most important member of your sales team: it works 24/7 and is the "face" users see before they even reach out and speak to a human at your business. In their guide to Growth-Driven Design, HubSpot states:
"...a prospect has already moved through 70% of the sales process before even reaching out to your sales team. Where are they finding the information before talking to someone? – Your website."
A lot of businesses take this to mean that: high importance = huge stressful overhaul each time you want to change your website. This isn't the way it has to be. But because it's what people have come to expect, it feels like to do a "proper" job, there has to be a lengthy, painful ordeal first.
For some businesses, a complete redesign could be the way to go, especially if you have a clear vision for what you want to achieve and the budget to get it done fast. But for many, it's a daunting prospect. The most common problems that can arise from traditional website redesigns are:
Large upfront cost
Spiralling budgets once started
Missed deadlines
Inability to be flexible/make changes as you go
Longer waits for results to be seen.
Why do traditional website redesign projects fail?
Businesses don't want to wait months before they can see any positive results.
If the changes made to the website aren't profitable, businesses want to be able to make tweaks straight away.
Changing

everything

at a time means you can't keep track of the changes that are actually making an impact – remember your science experiments at school? Only change one variable at a time before analysing the results.
Most businesses can't afford to pay large sums upfront – the average traditional website redesign costs between £11,000-£60,000. Paying a chunk of this before work is completed is understandably daunting.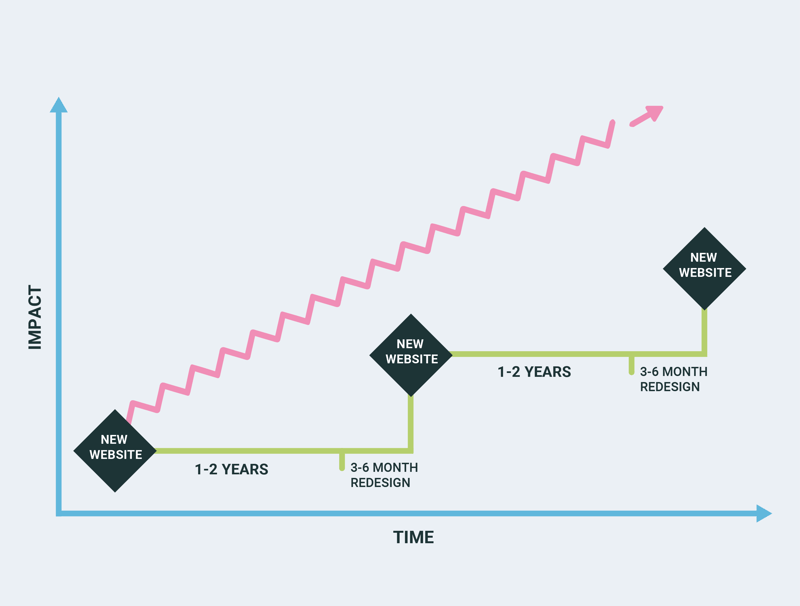 What are the benefits of Growth-Driven Design?
In Growth-Driven Design, the focus is on data- and audience-driven analysis. You are redesigning your website with the intention of making ongoing changes based on visitors' needs and conversions. Here are some of the benefits:
GDD lets you minimise risk – both financially and emotionally.
Beginning with a

launchpad website, rather than a traditional "set and forget" model, means you can constantly tweak and adapt your site as the needs of your users shape your findings.
The initial strategy stage and launchpad site development takes just 30-45 days, so it's easier to stay on budget, on deadline and crucially, start seeing positive effects.
GDD follows a cyclical pattern, typically with regular monthly checks. If you've set yourself a target of spreading the redesign over a year, the following 11 months suddenly feel far more manageable and less daunting.
By using weekly/bi-weekly sprints where you're

constantly testing and reviewing your site's optimisation, it feels like a productive learning journey, rather an unrealistic, out-of-control quest for perfection before anything gets launched.
What is the difference between GDD and CRO?
Conversion rate optimisation's focus, as the name suggests, is on the specific conversion points (pages, CTAs, forms) of your website, whereas GDD is a website design methodology aimed at sustained incremental website improvements.